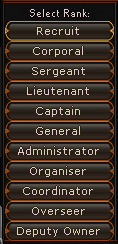 For a list of ranking members, see here.
Here is a list of Ranks, and how to achieve them.
There can only be one. Currently: Obama Yomama.
This is for the founders of the clan only.
Be the best of the best in this clan.
Be friendly to everyone, and have us notice you doing great deeds. Participate and help out with anything.
*In order to be promoted to any rank higher than General, you must have a registered account on this wiki.
Recruita total of 20 members, be a great role model to other clanmembers, and help out the clan.
Recruit a total of 15 members, and be a significant help to the clan.
Recruit a total of 10 members, be helpful, and participate in clan activities.
Recruit a total of 5 members, and give help freely.
Be active in the clan and clan chat.
Be polite and mature, and ask a higher rank for an invite.
Ad blocker interference detected!
Wikia is a free-to-use site that makes money from advertising. We have a modified experience for viewers using ad blockers

Wikia is not accessible if you've made further modifications. Remove the custom ad blocker rule(s) and the page will load as expected.